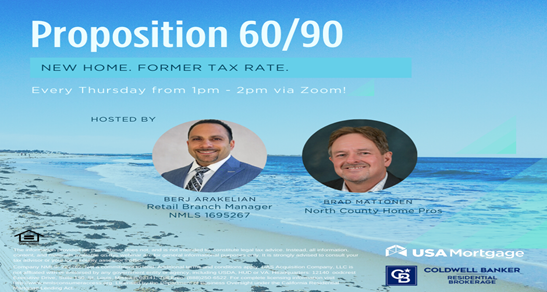 Are You looking to downsize or Rightsize into the best home for your lifestyle, or considering finally building the home of your dreams?
Maybe you are you tired of the Stairs, and want to escape the maintenance trap. Or, is it your dream to finally move closer to the kids and grandkids?
If you're over 55 and considering a move from your current home to another home in California, then you need to be aware of the unique tax relief benefits state law provides when you move.
About this Event
Proposition 60 and 90 are two amendments to the California Constitution that provide property tax relief to citizens over the age of 55 that are selling their existing residences and purchasing or building their new dream home or rightsizing to their ideal residence.
Attend our webinar to better understand how to take full advantage of the benefits that Prop 60/90 offers California residents! Right-size your retirement dreams with this must-have information!
Brought to you by USA Mortgage's Berj Arakelian and Coldwell Bankers' Brad Mattonen.
Join us Thursday's at 1PM PDT and see if you can take advantage of California's Propositions 60 and/or 90 to downsize into your ideal retirement property without giving up your already low property tax base!
The information provided on this webinar does not, and is not intended to, constitute legal tax advice. Instead, all information, content, and materials available on this webinar are for general informational purposes only. It is strongly advised to consult your tax advisor or your local county assessor's office.